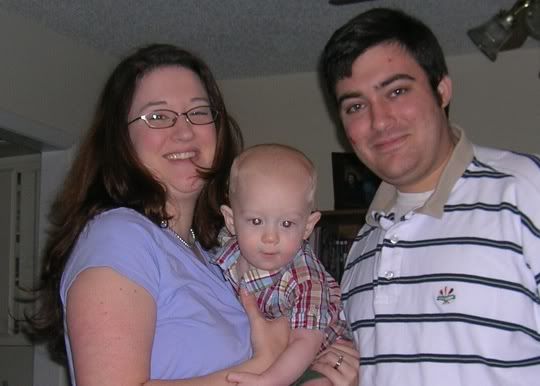 We had a fun Labor Day Weekend with a visit from Uncle Jason! He drove up on Saturday and had a great trip. He got here at noon, and Jonas was excited to see him. Lux & Linus were NOT nearly as happy to see his dog Quagmire though! They hissed and growled all weekend at this hairy interloper.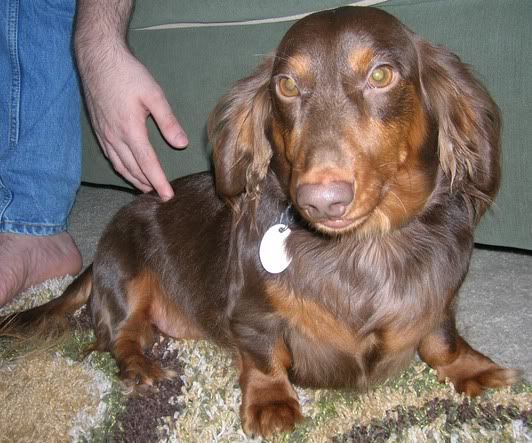 Chris was on call, so it was just the three of us. Saturday evening we went to dinner at Dalton's, a neat mom & pop restaurant nearby. I had shrimp, Jason had ham and biscuits, and Jonas had Purely-Os! After we ate, we rented Hoodwinked at Blockbuster (cute movie, animation is nothing special but the story line is great – if you liked Fractured Fairy Tales you'll like Hoodwinked).
Sunday morning, Chris got home and went to bed, while Jason, Jonas, and I headed to church. When we got home, we had a yummy late lunch of roast beef, new potatoes, corn on the cob, broccoli, and brownies. There was lots of baby playing, and when Jonas took his nap, the big guys headed to Best Buy for some male bonding. They came back with an XBox game, a controller, and a DVD. After that, I heard a lot of shooting and blowing things up and phrases like "Good one, man!" I have no idea what was going on at that computer screen; apparently a Y chromosome is necessary to translate. 😉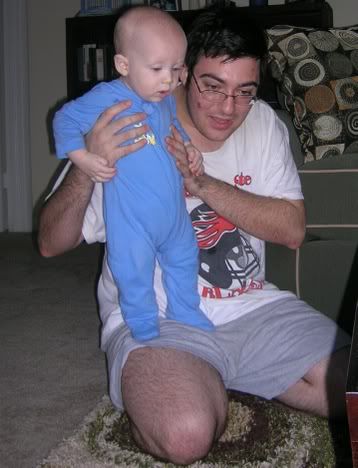 Chris was on again Monday morning, so Jason got a rude awakening when Quags started barking at the towering hulk in scrubs who came through the living room at 3:30 a.m.! Later (when it was "morning" for the rest of the world!) I made breakfast. With a spread of bacon, eggs, grits, toast, and sweet tea, I think Jason momentarily thought he was back at Grandmama's house! 😛 Jonas woke up with his usual sunny disposition, and I had the treat of seeing him anew through Jason's eyes. He got to come into the baby's room and see him cooing softly at Horton and Sam I Am, then turn and do a big double-take and flash an ear-to-ear grin when he saw Mommy and Fetr Jason standing there! They had fun chasing and petting the dog, making faces at each other, and communicating in sound effects and gibberish for a while before Jonas needed his morning nap.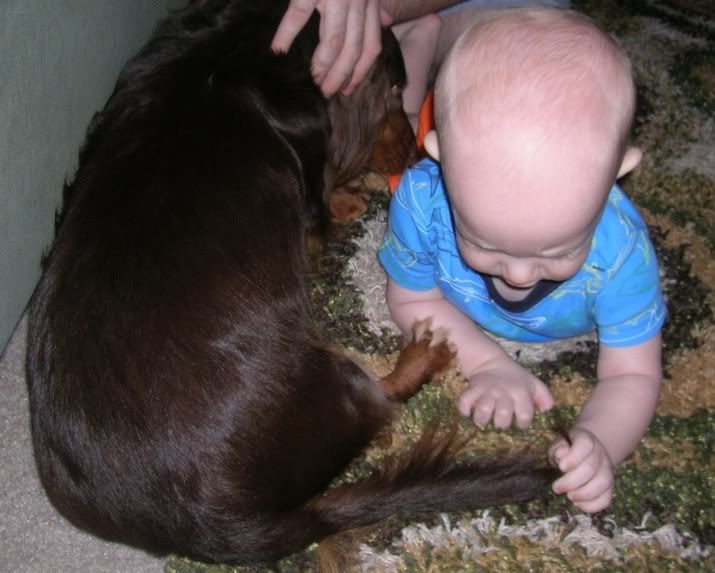 While he got his baby beauty rest, I gave Jason a haircut – his frugality expresses itself in new ways every day! Before long, it was time to print out directions on MapQuest and load up the car. Hopefully Jason will have a good trip home and Quagmire won't give him too many back-seat driver suggestions 🙂
More pictures from our weekend are in the Uncle Jason's Visit album at our Shutterfly page. Fun times!