My big boy, you are nearly a year and a half old! Today was a big, fun day. We went to our first playgroup in Kentucky, and met a bunch of moms and babies at a water park. You charmed everyone with your new "hiding" routine, where you close your eyes and purse your lips when a stranger talks to you. It's such a somber expression on a little guy, people can't help but laugh! It didn't take you long to warm up, and before I knew it you were eating your lunch and jabbering away at the two little girls at our table. Then we went inside the splash park, and you transformed into the cutest little water beetle I've ever seen. You barely hesitated at the sight of big jets of water erupting from the sidewalk – you ran over to the water slide with a seal, balancing a ball on its nose, on top – you splashed and frolicked and stomped. And I think you made friends with every woman in a two-piece suit in the whole place!
I should have known you'd enjoy this place. When Aunt Holly visited us last week, she got you a baby pool and it's been the highlight of your days.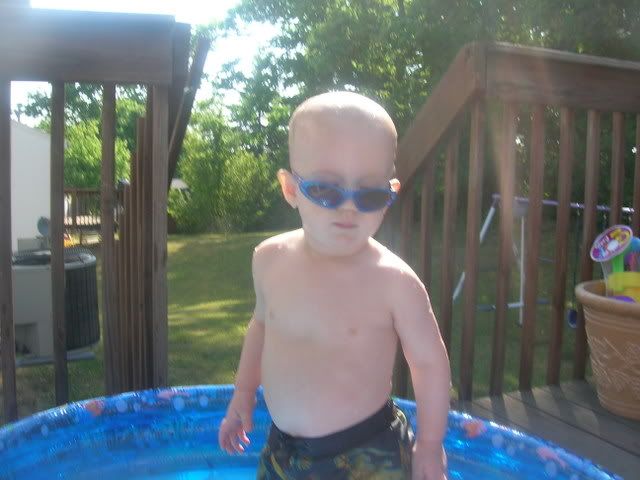 We are starting to get into the groove in this new place. When you wake up in the morning, we have nursies in Mommy's big bed. Then we hop down and you R-U-N to the kitchen for breakfast. Usually you point at the pantry and ask, "Bah? bah? bah?" hopefully – you'll give anything for a cereal bar!
After you eat, and I clean up, we head downstairs to play. You love going up and down the stairs in our new house! The first few days, you couldn't believe your good fortune at living in a place with all these stairs. I'd see you running to the baby gates, rattling them, and signing "more? more!" and pointing up or down. You haven't settled on method for going down yet, though – you do a few steps scooting on your bottom (and you say "buh!" when your tush lands, imitating my "Bump!") and then you turn over on your tummy and crawl backwards down a few steps, and then you hold my hand or the wall or the railing and walk down the last few like a grown-up.
We play downstairs for a while – I really love having all your toys spread out down here, and it's great that there's a bathroom downstairs. A few times I've been able to take my shower in the morning while you played in the playroom! This is a great setup we've got here.
Sometimes we run errands. Now that we've joined a playgroup, hopefully we'll have lots of days with new friends. Sometimes we go outside to play in the backyard, swing on your swingset, or splash in your pool.
We eat lunch, and then you take a nap. You're such a good eater – I never worry that you aren't getting enough, or that you're becoming too picky. You have started to show your preferences, and you eat fewer vegetables now than you did ten months ago. I'm okay with that, though. You love fruit, and you do eat a few veggies still. Hey, your Uncle Jason hardly eats any veggies and he turned out okay! Your naps are usually 2-3 hours long, which is great for Mommy. How else would I get anything done around here?
Our afternoons feel l-o-n-g. I've started trying to get out your paper and crayons for you then, and I'm planning to start giving you more art supplies soon. It blows my mind that you are becoming such a full-fledged toddler, and you actually are starting to enjoy having these activities and experiences. It seems like yesterday that you were, as Pam in Florida puts it, my Houseplant That Cries. (You know, you water them and they just sit there…) And now you do so much!
Your personality continues to emerge, and it's so amazing to see. You are pretty fearless – like today at the water park – though you are starting to be a little shy around new people. I think you just don't like to feel intruded upon. When people talk to you, make eye contact, and get too close before you're ready, you get a little upset and do your closed-eye thing. But when people respect your space, and let you check them out for a while before they mob you, you are a friendly, engaging, chattering little social butterfly.
You are so sweet and sensitive – you share EVERYTHING, all the time. Sometimes when you wake up from your naps, you bring Baby and the binky with you to my bed. Then Baby gets the binky, and Lux gets the binky, and Mommy gets the binky. And then you get the binky again, of course, but it's so nice of you to offer it around. You have even started sharing your nursies!!! It makes me laugh, but I also think it's a really beautiful thing when you bring your stuffed animals over to me, point them to my chest, and make a little "slurp, slurp" sound. You know that nursies are for comfort and nourishment, and it's so precious that you want to spread that love around to your little friends.
Communication keeps getting better around here! You have signs for nurse, finished, more, bye-bye, book, ball, cup, & eat; and you have words for Daddy (dada), cat (keekee or keegee), ball (ba), cereal bar (bah-almost the same as your word for ball, but different enough for Mommy to tell the difference), and car (vmm or voom). I know you are continuing to figure all of those things out and your "language explosion" is probably right around the corner.
When Daddy comes home from work, you light up like a Christmas tree! Hopefully this year his schedule will get more predicatable, because I know you love having that time to play with him before bed. So far, in our new house, we've had dinners together as a family and Daddy has done your bathtime.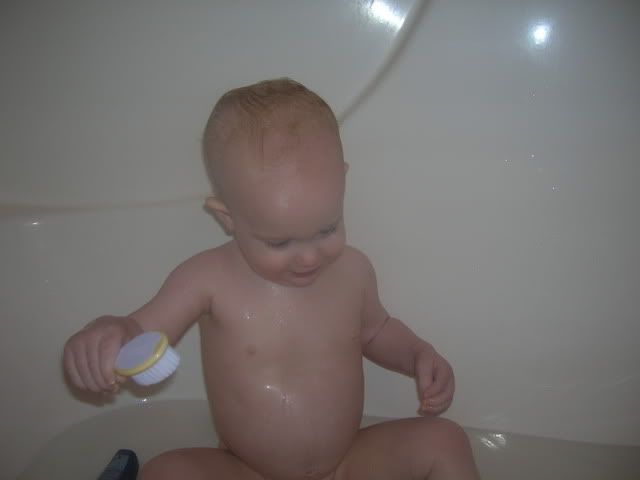 You are going to bed around 7:00 these days, and you are finally sleeping through the night! (Thank you, by the way.) You started that right before our move, and other than a few nights while you had to sleep in the pack & play, it didn't even seem to bother you or disrupt your new pattern. I think you're getting around 11-12 hours of sleep at night, which you need to process all the busy work and play you do during the day.
"Busy" is probably the best single word to describe you this month. You make us laugh, you make us cry, you make us proud to be your parents. We love you, and we love this busy journey we're on with you.
I love you, Jonas, and I always will.
Love, Mama