This is my current everyday bag: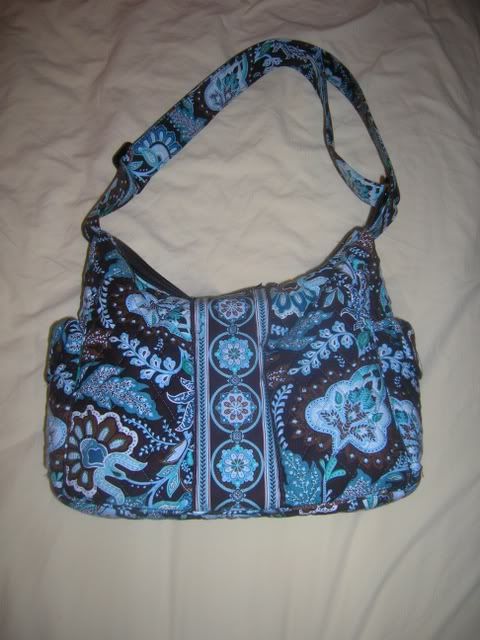 Yeah, it's real. No, I didn't win the lottery. My mama loves me and she still buys me pretty things. How lucky am I?
Every day, I schlep this bag around with a gazillion essentials inside. Here's a look!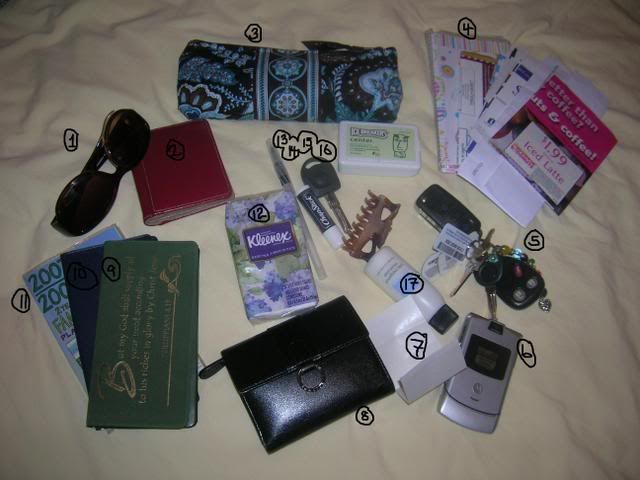 1. My big sunglasses. Cheap-o on the sale rack at Macy's, but I love 'em.
2. Creative Memories picfolio – a teeny, tuck-in-the-pages scrapbook from my favorite company!
3. Mini-bag that matches main bag – for all my lipglosses, my Tide To Go stick, a piece of chocolate, and all those cards that I need to keep with me but don't have enough slots in the wallet for (Blockbuster, library, etc)
4. Coupons – the plastic organizer for grocery coupons & lists, and the mishmash on top of that are for Bed Bath & Beyond, Linens and Things, Home Depot, Lowe's, and Dunkin Donuts.
5. Keys – to the house, the Jetta, the Equinox – and my prayer bead key ring from Pamela and Diane in Florida
6. Cellphone. Most of the features of which I still don't know how to use.
7. Sticker backing sheet from the church nursery (for Jonas' nametag and diaper bag tag)
8. Wallet. Money-free, so as to weigh less, you know….
9. Checkbook with appropriate Scripture verse
10. Savings account book
11. 2-year pocket calendar
12. Kleenex minis. Man, now I feel like an old lady!
13. Pen, for all those important notes in my calendar and coupon book.
14. Original Chapstick.
15. Extra key to the Jetta.
16. Hair clip that I *only* wear *inside* the house or car.
* Forgot to give it a number, but: new gum. I like it so far, but I've only chewed one piece.
17. Lotion from one of the hotels we stayed in after the fire. Pretty scent, but it's a little too watery. At least it was free!
~~~
This is not an original idea. Her Bad Mother shared all the stuff she lugs around, and it was so much fun to see it all, I thought I'd put mine out there for the blogosphere, too.