The Cincinnati/Northern Kentucky International Airport gets two thumbs up. They have a little children's play area with several "Little Tykes" climbing/sliding/playing apparatus apparati structures, along with a TV set to cartoons, a kid-size picnic table, and an adult-size rocking chair.

We flew down to Savannah, Georgia, where my mom picked us up. We drove five hours southwest, to Thomasville, Georgia. September 14th was my grandfather Leo's 86th birthday; and September 16th was his and my grandmother Erma's 56th wedding anniversary.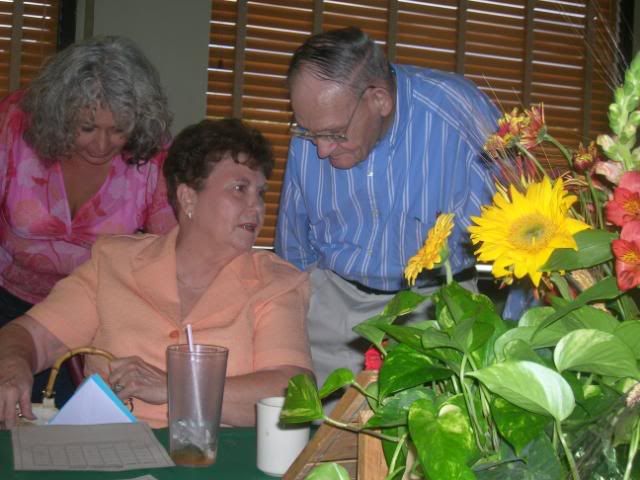 The happy couple!
There was a great turnout for the party on Saturday. Thirty-one relatives and one boyfriend attended. We had the entire back room of a country buffet style restaurant, and it was a great party. The food was wonderful – I think everyone had PLENTY! – the wait staff was courteous and quick, the cake was great, the decorations were nice (good job Mom & Aunt Angie!), and the whole rowdy bunch of us were fun and friendly.
I had the best time watching Jonas with my cousins (his first-cousins-once-removed). I have always loved the feeling of big family – aunts, uncles, grandparents, and kids – swelling through that little house, filling up the kitchen and den and 'red room' and 'blue room.'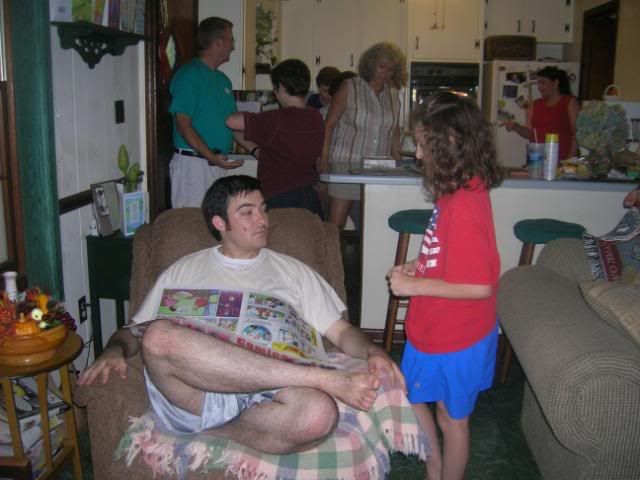 Every family tree has a few nuts!
Through all our moves, all the Army bases where we were stationed, that place was a constant in my life. And now, to see my son in those same rooms, with those same family members…. It touches me in the deepest part of my heart.


Jonas with my Aunt Linda & cousin Autumn

Jonas 'knocking over' my cousin Noah

The two youngest family members – Jonas & my cousin Joseph – take over the red room!
Sunday morning, my dad preached at my grandparents' church. All of his brothers & sisters, and a smattering of their kids, came to listen. We got a group picture on the church steps, but I don't have a copy of it — Hey Jason or Uncle Tom, wanna email that to me? Thanks!

Dad & Jonas reading before church on Sunday morning
We spent Sunday afternoon at my grandparents' house again. I think Jonas really bonded with Grandmama and Granddaddy – he even let Granddaddy hold all of his 'babies'.

Mom, Dad, Jonas, & I headed back to Midway on Sunday afternoon. We spent Monday relaxing at their house, and then flew back up to Kentucky on Tuesday afternoon.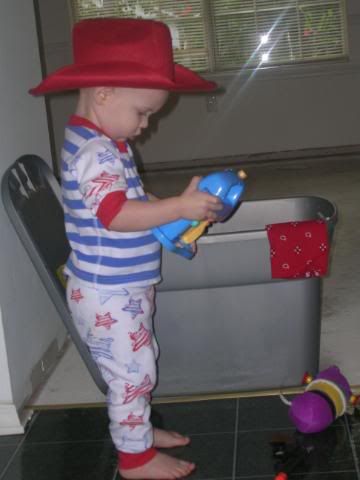 My grandmama has cool toys at her house!

Sleeping in the Pack'n'Play at Grandmama's house…. this trip really did a number on his sleep routine.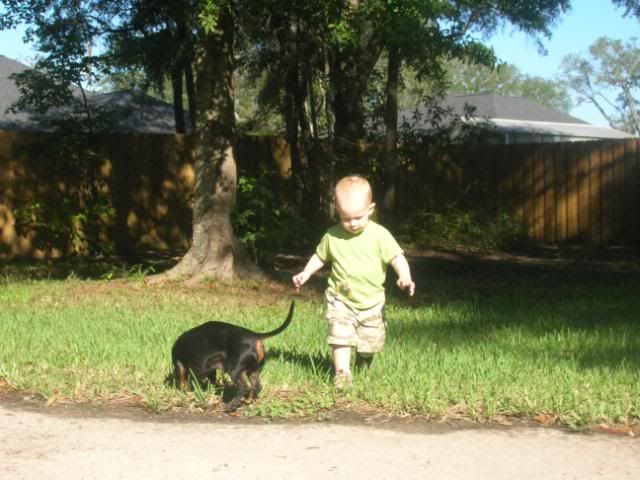 Walking the dog – only 19 months old and they're already giving him chores!
This weekend was such a wonderful visit. It was so nice to see all my aunts and uncles, and so many of my cousins. Even though we're living far away from them, I really hope that Jonas grows up with as much love and appreciation for, and warm memories of, the Maxwell clan as I have.