My mom & dad drove up (yes, you read that correctly. They drove. From Savannah to Elsmere. Split up over two days for the drive here and two more days for the drive home. Yikes! At least they have a hybrid so the gas wasn't too exorbitant.) to visit for a few days last week.
They arrived on Monday, and we spent that day doing the "tour of the house" and the "getting the toddler reacquainted with the grandparents" thing. Fun times. In the eternal quest to clean out their garage & attic, they brought a few (well, that may be an understatement…) things up for me. My wedding dress, my collection of porcelain dolls, a box of miscellaneous Epsilon Sigma stuff (yow yip!), and my American Girl doll Samantha with all her gear. So, the good news is that now my Mom can park in her own garage. The bad news is that I don't know where to put all of this stuff! 🙂
On Tuesday, we went to the Creation Museum. Mom and Dad heard about it & were hoping it wasn't too far to drive from our place – it turns out, it's only 22 miles away. So, dear readers, if you too have been dreaming of a trip to the C.M., you can bunk with us and it's a quick little ride over! It's a very nice museum – very professionally done. Their website recommends a 3-4 hour visit, and I can see why. There's a lot to read and take in, plus several "theater" shows to watch. We skipped all the movies but one, and we did a lot of skimming & skipping with the various plaques and displays. We were on the Toddler version of the tour, after all! They have a big bookstore and cafe, plus gorgeous botanical gardens outside.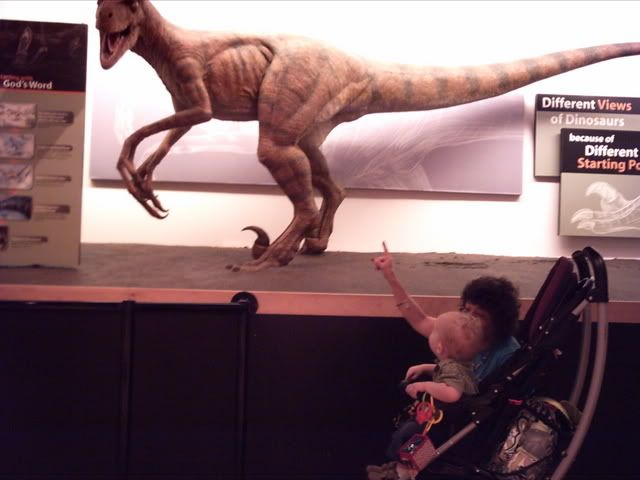 Jonas, can you say DINOSAUR?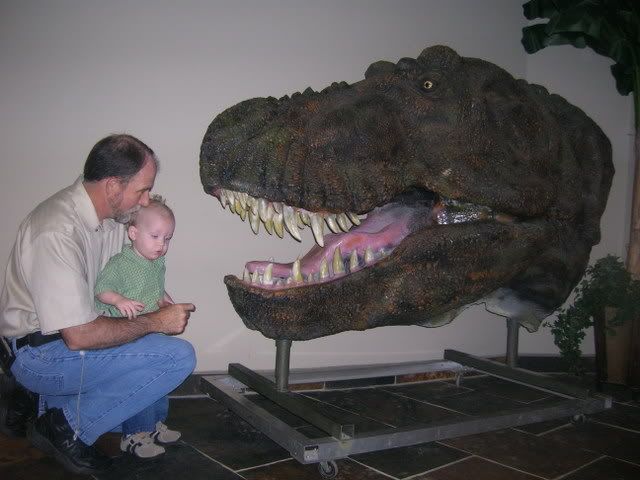 No, seriously, Granddaddy… I think we need to get AWAY from this thing!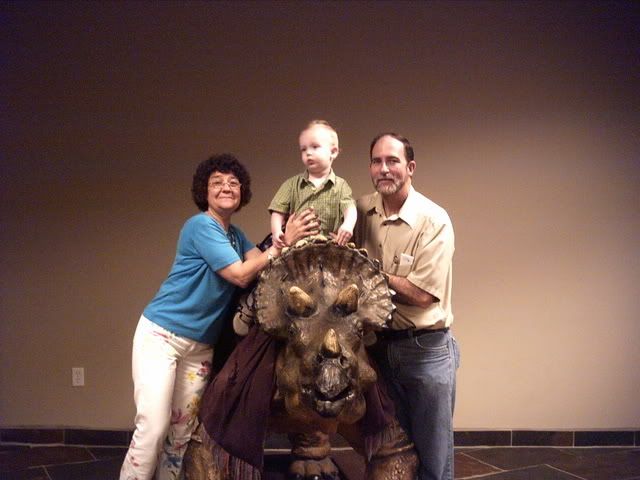 Jonas atop Sarah the Triceratops (get it!?) with Grandmama and Granddaddy for spotters.
Wednesday morning we just relaxed in the playroom. When Jonas went down for his nap, Mom & I headed out to the mall, leaving Dad here to supervise naptime and work on his sermons. We had a great time – you know the two of us can shop 'til we drop! Gymboree had a great haul for Jonas, and I got some fall fragrances from the Yankee Candle Company. Mom found a few things for herself, too!
We went to the Newport Aquarium on Thursday. The idea was that since I have an annual pass and Jonas gets in free, it would be a cheap(er) outing for the day. Yeah, good plan, Michelle…. see, I got up early and packed the diaper bag so that we could get out the door on time. Threw my wallet and keys in there, so I wouldn't have to carry my purse. (No strollers allowed before 4:30 pm, so I was trying to consolidate.) LEFT THE ANNUAL PASS in my purse. Aaaaarrrrgggghhhh. Luckily, Dad was very nice about it and had brought enough cash along, so they didn't leave me outside while they toured the aquarium with Jonas. Isn't that sweet?!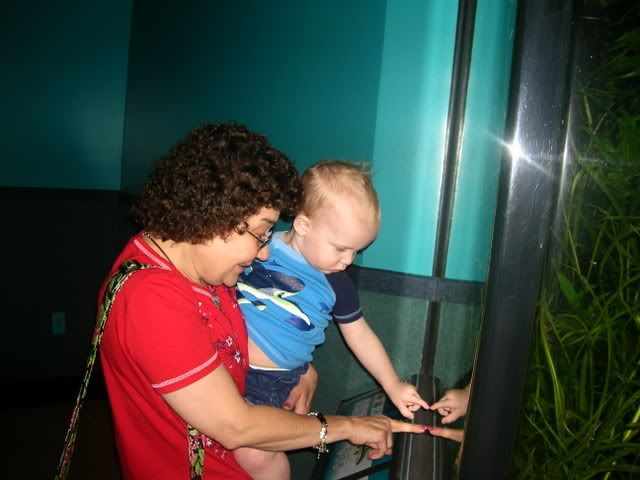 Fishes!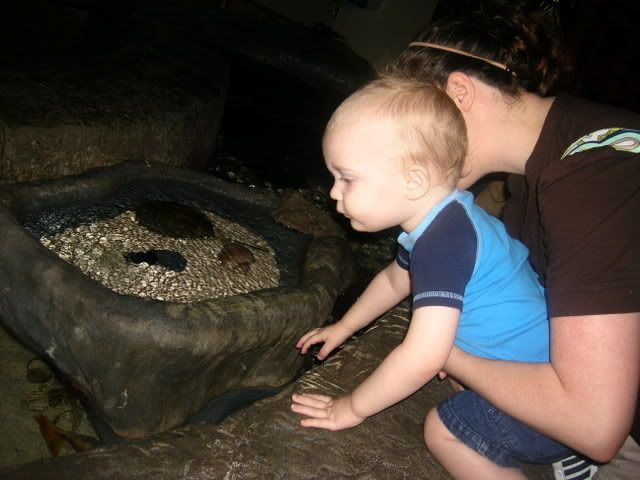 Jonas thinking about "petting" a crab and a ray of some kind.



Dad is probably giving Jonas a very informative lecture on that particular species of fish…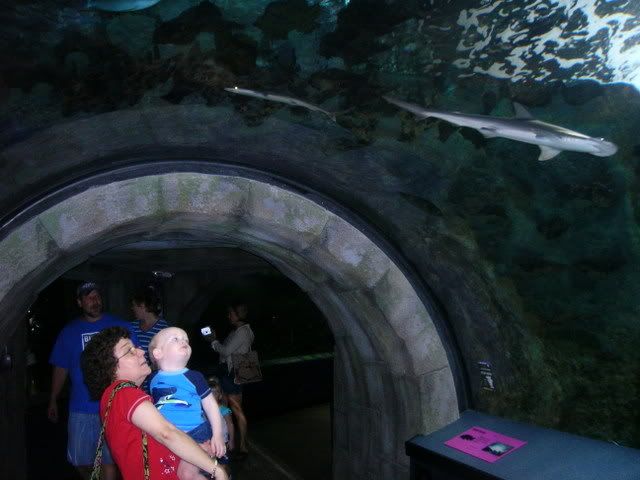 Mom: "I'm so glad these sharks are behind glass!" Jonas: "You and me both, lady!"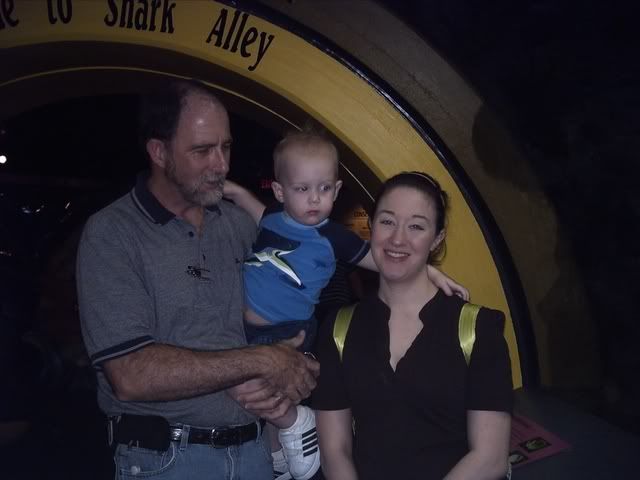 Three generations: Jud (1956), Jonas (2006), & Michelle (1980)
Friday morning was going to be another relaxing, quiet day of play with the baby before Mom & Dad had to pack up and go. It didn't go quite according to plan – Mom discovered her cell phone was missing, so after some backtracking and a phone call, we found that it was left in the Lost & Found at the aquarium. Dad and I headed back over there, and Mom & Jonas had some 1:1 time. We made it up and back, then they started loading up the car.
Jonas cried when they left! 🙁 We can't wait to see them again.