It took me until naptime, but I did finally get our pictures uploaded and ready to go. You can see the whole album by clicking here.
The weekend before Thanksgiving, we had a suprise visit from Grandpa Karl & Marty. Chris' grandfather & his wife live in the D.C. area, and though we've sent pictures, they had never met Jonas in person. We'd talked about a visit this fall, and finally this weekend presented itself as a good time for them to get away. Chris' dad and stepmom decided that they wanted to be here to see the introduction of Jonas to his great-grandpa, so they came up to visit at the same time!
It was so great to have a house full of family. Jonas took a little while to warm up to Grandpa Karl, but once he did, they had so much fun together. The giggles were non-stop, I tell you!
Friday night, I made a roast with mashed potatoes, corn, & carrots. I'd built a new table leaf for our little table (which we got from Sharon Ellis a million years ago back when we were neighbors at the little apartments in Rome, remember that!?) with some phone consulting help from my dad, so the kitchen was full to bursting with all seven of us crowded around the table. What a wonderful feeling, to have all that laughter and conversation and a nice meal together.
We went out for breakfast on Saturday morning, and then ran over to Home Depot (it's always something, isn't it?) before coming home to put Jonas …and Nonna!…. down for their naps. 😉 Chris and Karl went out to the mall to shop for my birthday gift, and when they came back, Donna and I went over to Jo-Ann's for some felt and embroidery thread for my latest project. (More on that another time!) Grandpa Karl and Marty were there when Jonas woke up, and we played and took more pictures for a few hours.
It was really important to us to take a "Four Generations" picture of the Nebel guys. Here's Karl Wendell Nebel, Jr (Grandpa Karl); Karl Wendell Nebel, III (Poppa); Thomas Christopher Nebel (Daddy); and Jonas Patrick Nebel together. Aren't they a fine-looking bunch?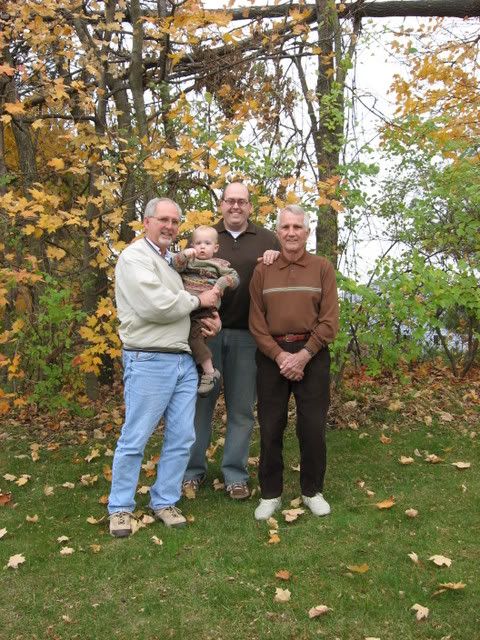 Grandpa Karl & Marty treated us all to a delicious dinner at Hoggy's, a local barbeque place, that night. We celebrated his birthday and mine (we share the day! And, as a funny coincidence, Chris and Grandma Marty share a birthday, too! What are the odds of that?). Jonas got a balloon, and we all got totally stuffed! That's a good night in any book.
The next morning, everyone had to leave – Chris for a day/night on-call, and all the grandparents for their homes. Jonas I headed to church, and the house felt SO empty when we got back home.
I spent Monday cleaning and cooking – I made a pumpkin pie and a pecan pie to freeze