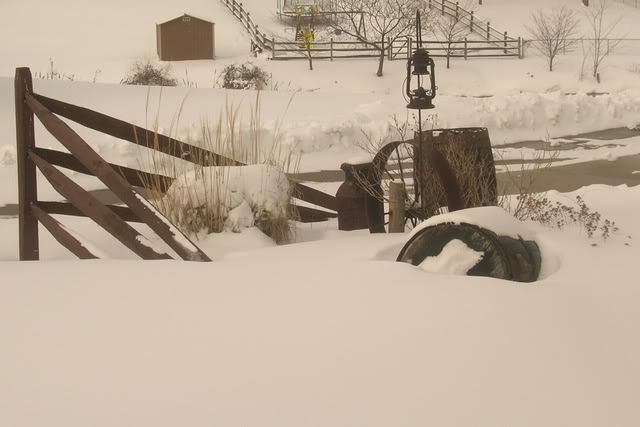 Holy frozen ice crystals, Batman!!!
We're getting a TON of snow here this weekend. What started as a winter storm advisory was upgraded to a Blizzard Warning midday Friday, and boy howdy – did we get some major snowfall. It's hard to tell exactly how much we got here, because the snow is light & powdery so it moves into drifts with the gusting wind. The weather guy we love forecast 8-12″ early in the week and then upped his expectation to around 15″ on the last report I heard, and I'd bet we landed somewhere in the middle of that.
It finally stopped (possibly just for a short break; Chris says he heard a report that the snow will continue tomorrow! Eeek!) this afternoon around 3:00 and the sun came out. Jonas had just woken up from his nap, so we layered him up and took him out. The snow is absolutely gorgeous. This is, by far, the deepest snowfall I've ever witnessed in my life. (Not so for Chris – he still talks about The Blizzard Of Ninety-Three, during which he apparently fell into a snowdrift that was at least 14 feet deep. (Although my father-in-law told me this morning it was probably more like five feet.) That was the big one in North Georgia, knocking out power and scaring everybody.)
 Part of me is a little irked by this random wave of frozen weather – I mean, it's MARCH, for pity's sake! We change to Daylight Savings Time tomorrow. That's crazy! – but another part of me still marvels that I live in a place where a blizzard is even possible. That's pretty cool, if you ask me. And I can rest easy: the snow should all melt by Monday or Tuesday, and the weekend coming up is forecast to be 46 degrees and clear. It will be great zoo weather –  Derek Said It Would.
 I'll be right back with a photo post – look for it just below this one! 😀