For those of you who don't speak "Jonas," that means that Uncle Jason, Dylan, and Aunt Sharon came up for a visit this weekend! (Okay, technically, she's Aunt-to-be Sharon, but since I'm fairly sure 2 year olds don't understand what an engagement or a fiancee is, I figured we'd just go straight to "Aunt." Seems easier.)
The boys both love the Backyardigans (we actually introduced Dylan to the wonders of the animated, singing creature show several months ago) and they were so cute playing with Jonas' stuffed characters and reading his books.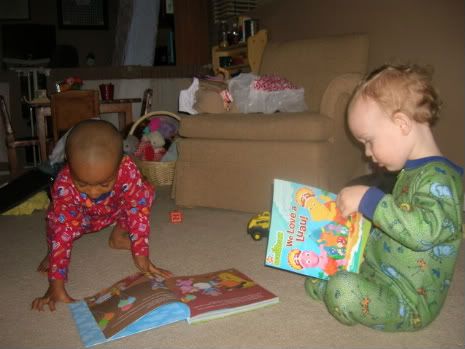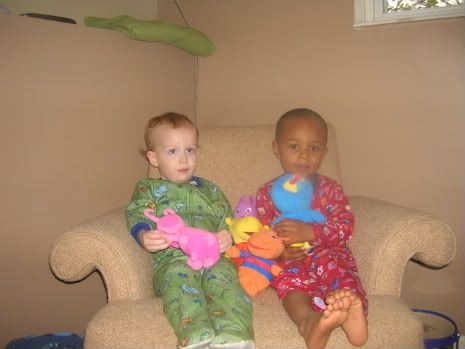 We had to share them – Sharon has grandparents and aunts & uncles who live a few hours north of here in Ohio, so they took a side trip to visit with them, too – but we had a great time. It was SO nice to see the boys playing together. Dylan is 7 months older, but they are just about the same height & weight. Is there anything cuter than the sound of cousins laughing & playing happily together? I cooked a couple of big dinners (and one big breakfast!) and I have to tell you – the more visits we have, the more I love this house. I love the layout, I love my dining room, I love the way it feels when it's full of family.

(Random picture of the boys watching a show on my bed while I cooked breakfast.)
On Monday we took the boys to the Cincinnati Museum Center – what a fun outing that was! They had a blast – and we took a ton of pictures.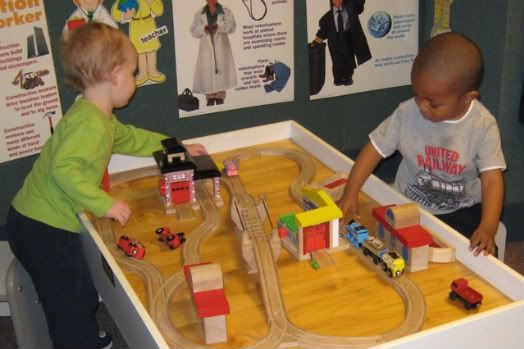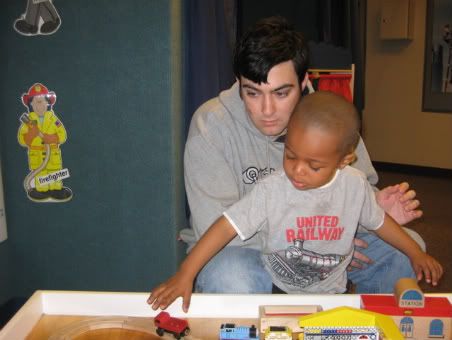 We'll probably see them again in August, when Sharon graduates from college… but maybe we can plan something sooner. That just seems so long to wait!