I'm a pray-er.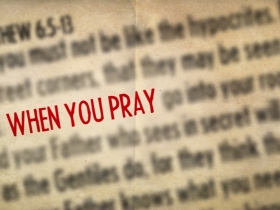 I pray popcorn prayers and breath prayers. I have prayed novenas and for a brief period of my college years, I prayed the rosary. I have prayed a Wesleyan chaplet and prayers to St. Peregrine. During our school year, I led my children in The Lord's Prayer and 'free' prayer time every morning. I pray with lifted hands, I pray while dancing in my kitchen. I pray before I pull my car out of the driveway for a long car trip, I pray when I find myself stuck in Atlanta traffic. I pray for my friends and for people I've never met other than online. I pray on my knees, I pray in bed, I pray with my eyes open while I walk around the backyard with my family.
But today I did something new.
This morning, I prayed aloud, up on stage, in the midst of corporate worship. I felt the weight of the listening ears, and my heart thudded & my knees quaked. I am thankful that the Holy Spirit helps us to pray, because otherwise I am sure I wouldn't have formed a coherent sentence.
I'm not afraid to pray out loud, even in a group, but praying during worship and on behalf of a whole congregation was scary!
A sweet friend texted me at 12:30 to say that her family, at lunch after the service, all agreed I had done a fine job up there. It was so kind of her, because I was feeling fairly mortified that I had probably repeated myself and not made a lick of sense.  It's a relief to know that I did, apparently, put together rational subjects and verbs, and wasn't an enormous stumbling block of confusion to the congregants standing in their rows.
And now I'm going to go and pray that my name won't come up on THAT list again for a long time.