In my last installment of #OrganizeMe, I shared the way I block off my time each week to have the best chance at accomplishing all I want to. It's the only way I've found to "fit it all in," and even then –sometimes life happens, and it doesn't "all" get done.
If you're single, that might be all you need to get organized since once you master your own time, you're set. But if you live with others –whether roommates or family– odds are, a big aspect of organizing your time revolves around coordinating the schedules of multiple people.
There are apps that some folks love for keeping a husband and wife (and even their kids, if they're tech-connected as well) on the same digital page. If that's the approach you're looking for… sorry, you've landed in the wrong place.
I know, I know — we are each walking around with a computer in our pocket that has more power than what used to take up a while building. I hear you. I adore my phone's GPS feature and even though I still break out my DSLR for special occasions, my phone's camera has become my BFF❤️. HOWEVER, using the phone's calendar/notifications/calendar-linking-apps just doesn't work for me. My brain literally just loses information I type into my phone calendar.
But I have three kids (in 8th, 4th, and 1st grades this year) and three dogs and one general surgeon husband. We have plenty of appointments, activities, and obligations to keep track of. This is what works for me: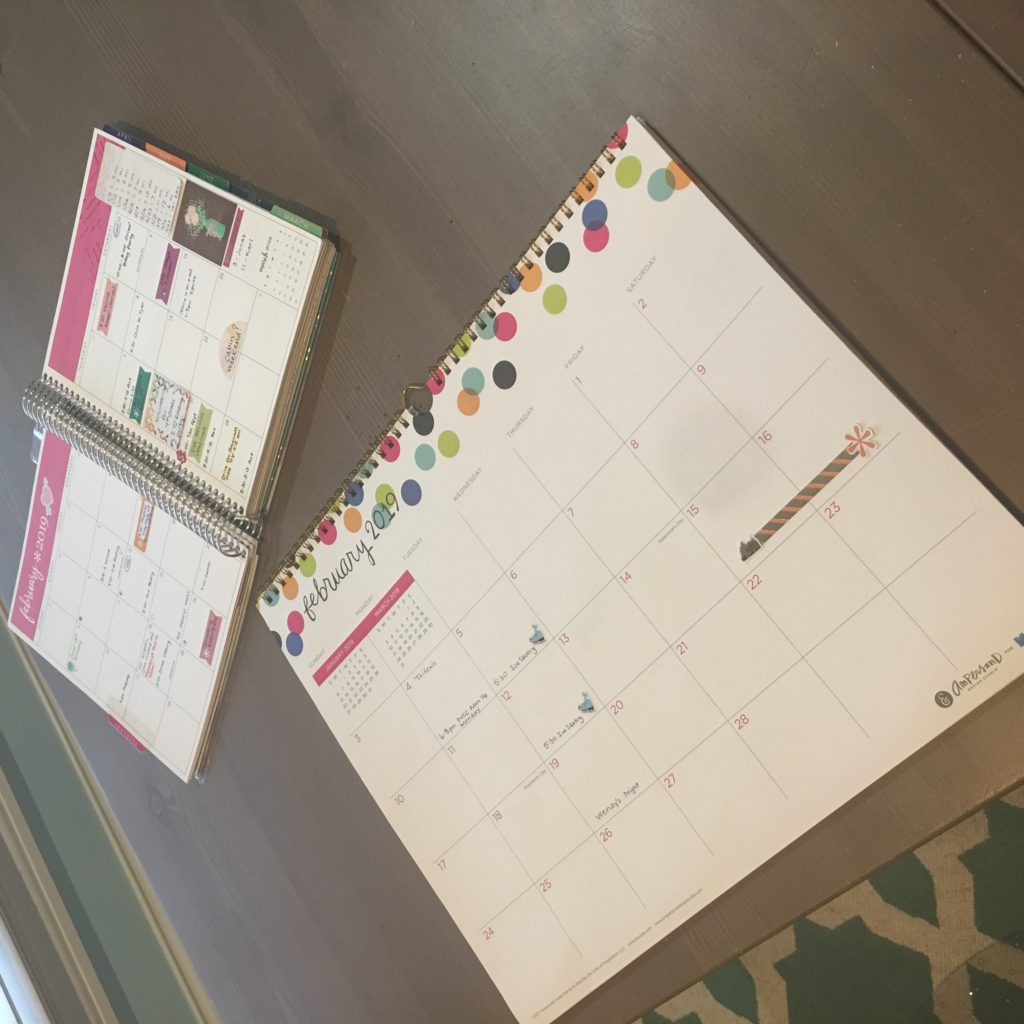 The open spiral-bound book is my Erin Condren Life Planner. (I've written about those before.) During the last week of the month, I sit down with my ECLP and a large wall calendar. This one is a 2018-2019 academic year that I ordered online. (Here's a similar calendar.)
I carry my ECLP with me everywhere when I make appointments, sign the kids up for lessons or teams, buy entertainments tickets, and everything else that needs a date and time in our lives, so it's chock-full of information about the upcoming month. If you're comfortable setting appointments and reminders on your phone, you could use your phone calendar for this step of the process.
I transfer everything to the large wall calendar. Now the caveat: I like stickers. And I like to color-code with pens (orange for me, blue for Chris, green for Jonas, purple for Susannah, pink for Abigail, gray or black for whole-family). But hear me: you do not have to do anything cutesy to make organization work for you. Use a plain black ball-point pen if that's more your style! The key to making this work is simply to put every time obligation in one place.