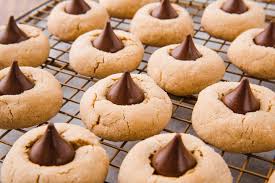 I've baked 216 cookies so far this month. The recipes and ingredients are lined up for another 276 by the end of this week. A few nights ago, my darling husband had the Unmitigated Confidence, the Unabashed Audacity, to ask, "Hey, you know these cookies? [flashes a photo of peanut butter blossoms on his phone] Could you make a batch for Christmas? I just really like them."
I mean. Y'all. I've already prepared "Santa's Whiskers," and peppermint-cocoa cookies, peppermint meringues, and up next are M&M cookies, chocolate-covered cherry cookies, gingerbread, and another batch of meringues. AND HE ASKS FOR MORE? Just because he likes them?!
Dear reader, I told him I would bake them, if he picks up the bag of Hershey's Kisses from the store.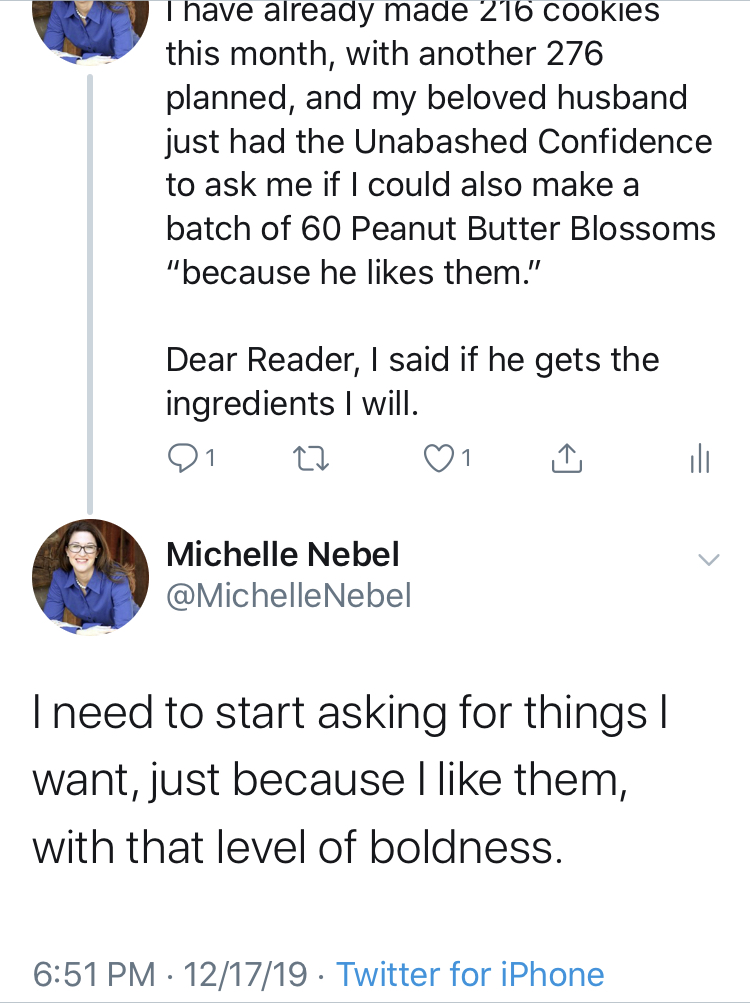 The evening of the cookie conversation, I tweeted: "I need to start asking for things I want, just because I like them, with that level of boldness." (I was really only thinking about asking Chris. For stuff and nonsense. But then…)
The next morning, my Bible Reading Challenge took me to Luke 11 and I saw this:
"Then Jesus said to them, "Suppose you have a friend, and you go to him at midnight and say, 'Friend, lend me three loaves of bread; a friend of mine on a journey has come to me, and I have no food to offer him.' And suppose the one inside answers, 'Don't bother me. The door is already locked, and my children and I are in bed. I can't get up and give you anything.' I tell you, even though he will not get up and give you the bread because of friendship, yet because of your SHAMELESS AUDACITY he will surely get up and give you as much as you need.

"So I say to you: Ask and it will be given to you; seek and you will find; knock and the door will be opened to you. For everyone who asks receives; the one who seeks finds; and to the one who knocks, the door will be opened.

"Which of you fathers, if your son asks for a fish, will give him a snake instead? Or if he asks for an egg, will give him a scorpion? If you then, though you are evil, know how to give good gifts to your children, how much more will your Father in heaven give the Holy Spirit to those who ask him!""

Luke 11:5-13 (NIV) emphasis mine

It reminded me of how I'd felt when Chris asked for cookies. Even though I am already busy (like the man in the parable who's already resting with his family), something about the sheer chutzpah of the request made me acquiesce.
Look at that passage again.
Asking for More
Do