Ah… the weekend. Chris is off, so we actually get to relax and hang out as a family! The only bad thing about our weekends these days is that Jonas doesn't "get the concept" of Saturdays – no more sleeping in for us!
Friday night, Jonas cracked us up when he finally named his baby doll. You might remember seeing this little guy in pictures before – he's a Waldorf-style doll from Nova Natural. We love their products, and this doll is no exception. He's handcrafted, stuffed with real wool (which retains the familar scent of home and makes a soft, cuddly, comfortable-weight doll), and has a "Waldorf" face (notice the lack of real expression – Waldorf philosophy says that a doll without a permanent grin etched on its face encourages kids to role-play a wide range of emotions for their dolls, which is an important part of socio-emotional development). This baby was a gift (via giftcard 😉 ) from Yaya and Pop (aka Grandmother Nancy & Grandfather Ron) on Jonas' first Christmas. All this time, Jonas has just referred to it as "baby" but yesterday, when I asked him the baby's name (as I do every few months, just to see what he will say), he told us Moogie! (Pronounced like the dance "boogie", but with an initial /m/.) 😀 There's been a lot of fun and funny new play with Moogie ever since he got a name. Apparently, Moogie likes water but not milk, likes to play "ride the horsie" on Jonas' knee, and always cries when he falls down. This morning, Jonas requested a "Cheese Me" with Moogie.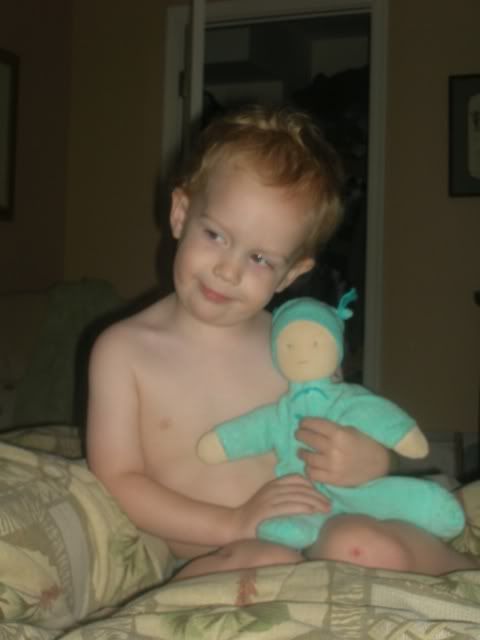 ***
Saturday morning we headed over to the Newport Aquarium. We've really gotten our money's worth from that annual pass! It will expire in a few weeks, and we definitely plan to renew it. They just opened a new exhibit — "The Frog Bog" — with dozens of species of frogs. Jonas has been imitating "goggies" for a few weeks now, so it was prime time for his interest. He loved it! After we looked at lots of frogs, heard the sounds they make, and posed on a giant frog, we climbed in a big, indoor-climbing structure. If you live near here (or plan to visit 😉 ) we can't recommend the aquarium highly enough!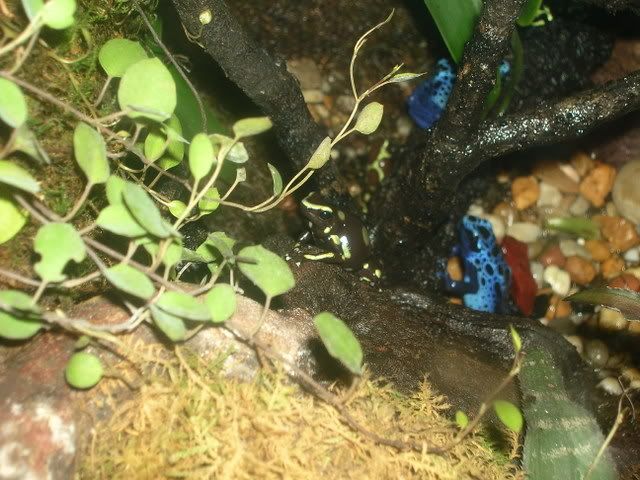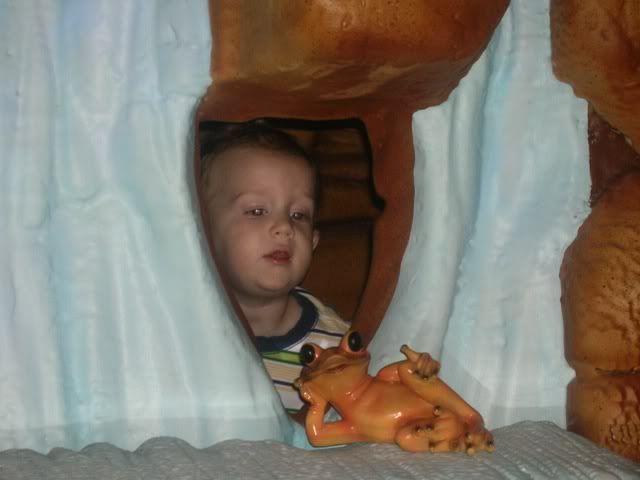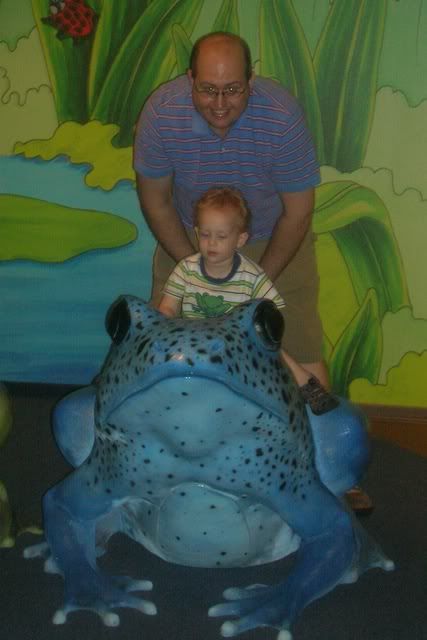 ***
And today also marks 16 weeks of this pregnancy! I'm fully four months along – so nearly halfway there. I saw my midwife on Monday, and we heard the baby's heartbeat (a thumping 155 bpm). Everything looks good, including the fact that I have yet to gain a single pound (very different than my pregnancy with Jonas; I was already up 9 lbs at this point!) and I'm measuring BIG (the uterus' height should be roughly 1 centimeter per week of gestation, yet at 15 weeks I was 21 cm!). My