Well, it's taken me two weeks but I'm finally getting around to telling you all about our Christmas. Settle in, this will be a long one.
Christmas started early for us, with an impromptu visit from Nonna, Poppa, Grandmother, and Pop. Jonas remembers Nonna & Poppa, of course, and made a beeline for him right away! (They play a game they call "Go, go, go!" where Jonas runs into Poppa's arms about 90 miles an hour and Poppa pretends to be knocked over. After a while, poor Poppa is worn out and starts saying, "no, no, no!")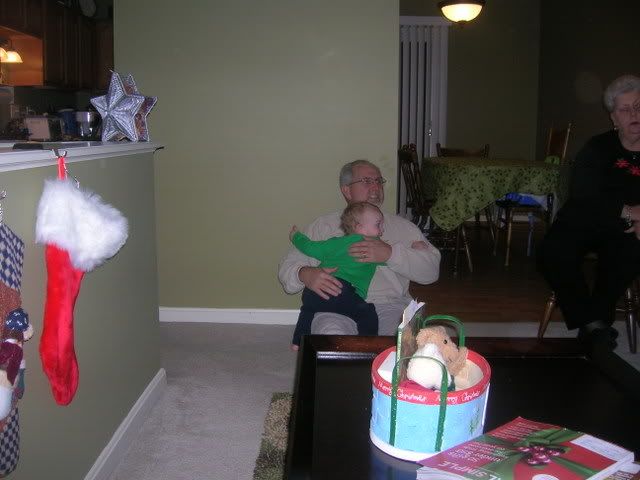 He didn't take long to warm up to Grandmother (or, "mah-muh-mer" in Jonasese) and Pop. The new game he discovered with them, was pulling his hand inside his sleeve and then popping it back out! He thought it was HILARIOUS and Pop played along, laughing and clapping every time.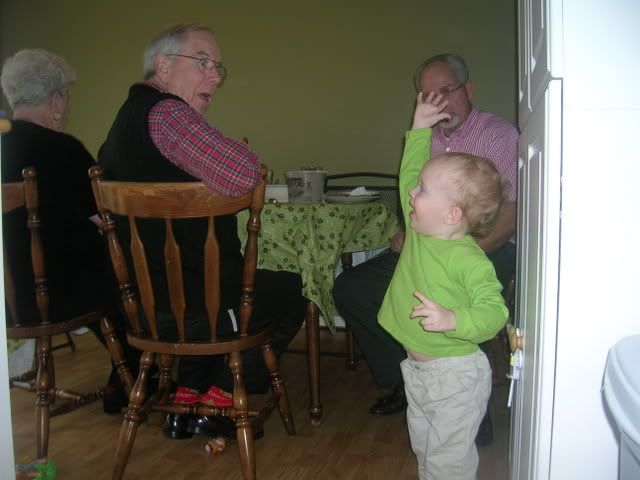 We opened presents while they were here, and Jonas just LOVED his new choo-choo train and wooden vehicles. Plus, he finally realized what all those pretty boxes under the Christmas tree were doing there. (It was quite something to persuade him to wait to open the others!)


It was a great visit -too short, but don't all visits sort of feel that way? For the next several days, Jonas asked for all of them repeatedly. I think he finally figured out the answer was always going to be, "Nonna and Poppa are at their house. Grandmother and Pop are at their house." Then, he started signing "telephone" and saying, "Hah, Poppa! Hah, Nonna! Hah, Pop!" …his way of asking me to call them on the phone. 🙂 He's a smart one!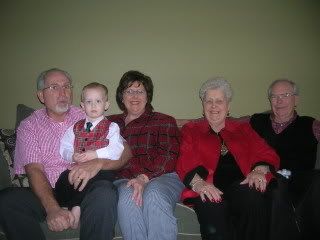 Chris really hit the schedule jackpot, since he was off for Christmas Eve night, and Christmas all day! On the 24th, we opened presents from the other extended family members and friends. Aunt Laura & Uncle Scott sent a couple of cutie-patootie Gymboree outfits.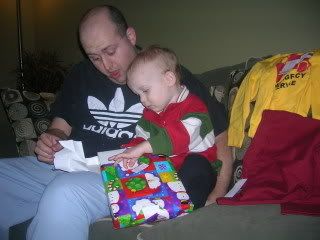 Jamison (and Barb & Dave), our good friends in Nashville, gave Jonas a big "collection" book of several Backyardigans stories. I took this picture a second too late – you should have seen how big his eyes were when he first saw the cover!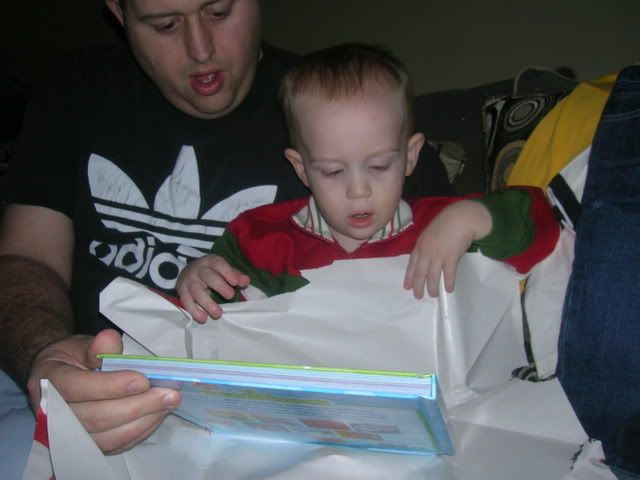 Grandmama & Granddaddy (a.k.a. Michelle's parents) sent a set of dishes for his kitchen, a Hermie DVD, a big stuffed Uniqua and a Backyardigans lunch box. Again – I wish I could have captured the look on his face. Seeing that enormous "Kooka" doll pop out of her wrapping and then opening that lunch box, he was so funny. It was a look of total shock and joy.


The great-grandMaxwells (Michelle's Grandmama & Grandaddy) gave Jonas a cool set of aluminum pots & pans & utensils.

And you know, Christmas wasn't over! Before we went to bed, we set up Jonas' kitchen and a few more packages downstairs in the playroom.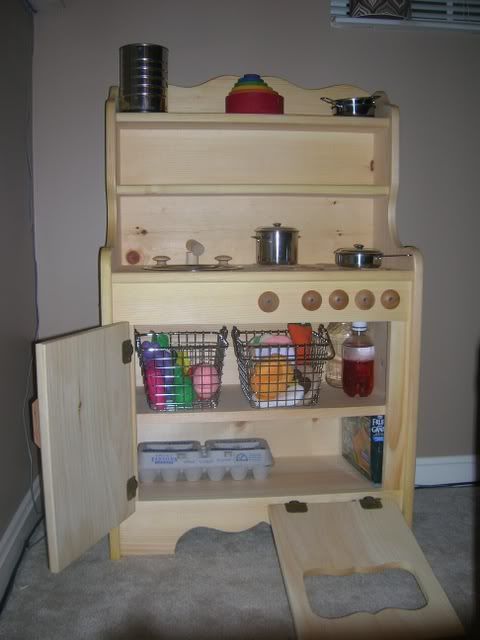 When we woke up Christmas morning, I turned on the coffee pot and started the cinnamon rolls (a tradition from when I was a kid… but next year, I want to make them from scratch! I'll let you know how that turns out. I have a recipe from my Aunt Linda that I've been 'meaning' to make for, oh, about five years now! 😀 ) Jonas woke up a little later – did he smell the coffee brewing? – and we snuggled in the big bed for a little while (a favorite way to start weekend mornings or days off around here), then got up for breakfast.
We headed down stairs, camera at the ready, and the funny thing was: Jonas didn't even seem to notice the big fabric-covered heap or the presents at first! We steered him to that side of the room, though, and convinced him to check it out.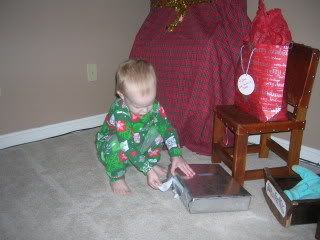 You saw the earlier pictures I posted, but here are a few more of the rest of Christmas morning play: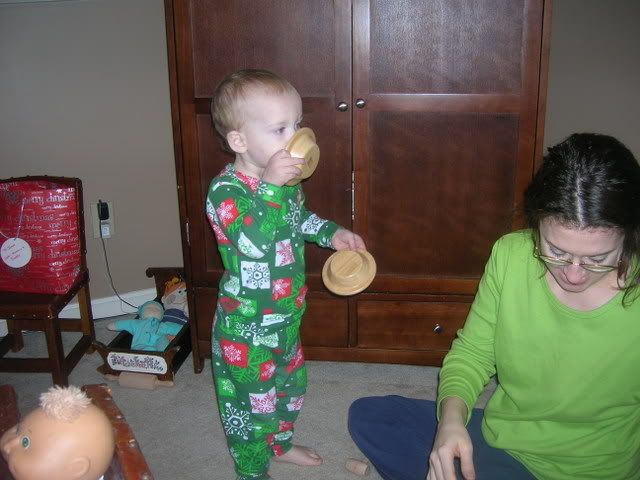 And you know what? Christmas still wasn't over! We all got several gift cards and/or cash this year, so we got to extend the Christmas experience by shopping! 😉 One of my cards was to Michael's, and hoo-boy, did I get a haul! I'll be crafting for MONTHS will all this stuff!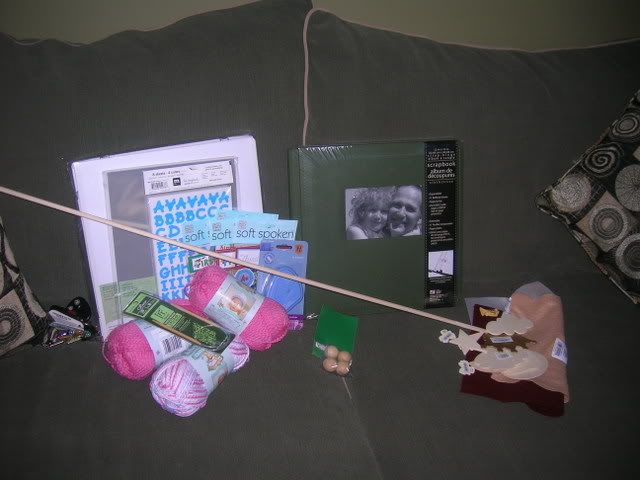 Chris got a few video games and movies with his cards/money; and as a family I think we've been out to eat at more restaurants this past couple of weeks than in the whole last few months!
A few days after Christmas, we took Jonas out to Toys'R'Us to spend some of his money (from Mimi, Grandpa Karl & Grandma Marty, and Great-Granny Corinne). We aren't normally big fans of that place, but we were looking for a tricycle and their website had a HUGE selection. We were hoping that our local store would have one or two of the ones we liked, so we wouldn't have to order online and pay shipping. I think we lucked out. 🙂 Jonas got a Radio Flyer trike and a new helmet!


He still has some money left over! We're planning to buy a set or two of wooden food – I need to try one or two more local stores, and if I can't find it here then we'll order from online.
I think that just about wraps up our holidays. I hope you all had as merry a Christmas as we did, and as happy a new year, too!